Having an effective content marketing strategy is extremely important if your business is looking to grow online. Not only does website content increase audience engagement, it is also serves as one of the highest ranking factors for increasing search engine rankings. If you are looking to enhance your content marketing strategy, a great place to start would be to consider incorporating a business blog onto your website.
What is a Business Blog?
Gone are the days when website blogging was just reserved for discussing personal hobbies, sharing recipes, or showing off travel photos. A business blog is a great way to connect with and engage your audience online by discussing topics that relate to your brand. A business blog could contain content that discusses the latest product or service, provides feedback on industry innovations, or recaps recent news or events. These types of conversations give your business a voice in the industry and encourage audience engagement through comments and social sharing.
Blogging is an inexpensive way for a business to drive website traffic, enhance their marketing strategy, and build trust in their brand, which can help them increase sales over the long term. If you are looking to build real relationships with long-term customers, then starting a business blog is a great option.
How do I Start a Business Blog?
A business blog is relatively easy to begin. Having a dedicated blog section on your website will allow you to easily add content, images, or other media and organize posts.
Define your Strategy and Goals
Even before starting to write your first blog post, outline the goals you want for the blog.  By understanding who your audience is and what value they'll derive from your content you won't be able to measure or quantify if your blog is working well.
Here are a Few Steps to Get you Started:
Select a platform for your blog
Choose a theme for your blog (this can either be purchased or selected through WordPress)
Register a domain name
Purchasing website hosting (for reliable website hosting services, connect here)
Develop a content calendar and strategy for posting
Factors to Consider When Starting Your Business Blog:
What is my business objective/goal for blogging?
How often will I post?
How will I connect with my audience through my blog?
How will I optimize my blog to help my business (such as keyword optimization, shareability, incorporating it into other marketing efforts, etc.)?
What are the Benefits of Starting a Blog?
Blogs Can Help Increase Business Revenue
Starting a business blog is a simple way to begin increasing revenue for your business. Did you know that 61% of consumers have made a purchase through a blog post? Business blogs are a great space to discuss your products or services or past client success stories. It basically gives you an additional space to toot your own horn online. Even if your blog content doesn't necessarily discuss products or services, a blog can still help increase revenue by developing customer loyalty. Discussing industry-related topics on your blog will help your business develop credibility with your audience, which can eventually result in a purchasing decision.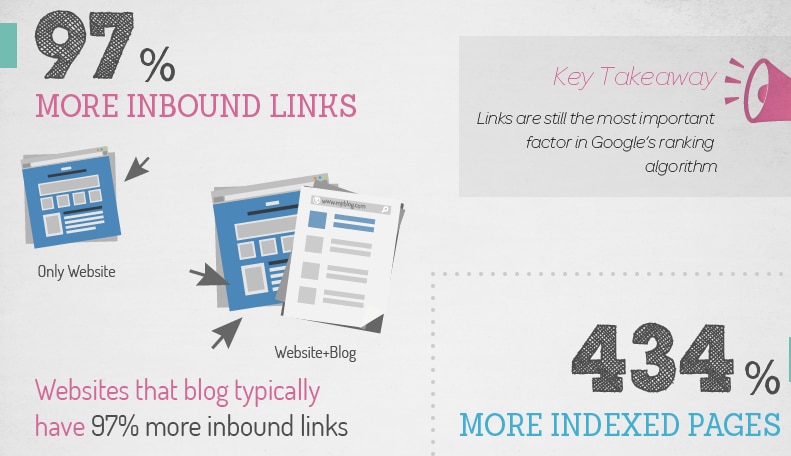 Source: "Why Every Business Should Blog" from QuickSprout
Drive Traffic and Increase Your Search Rankings
As mentioned above, a business blog is great for improving your search engine rankability. Blogging keeps your website fresh and current, which is an important signal for Google in determining where your website will rank among competition. By keeping your website updated with regular content, you have the ability to improve search rankings and increase the chance of your audience engaging with your website.
According to SEO Tribunal, there are 409 million monthly readers of over 2.2 billion blog posts.
To optimize your blog for search, there are a few factors to consider in your blog to achieve the best search results. The first is that longer blogs tend to rank better than shorter ones. The average first page results for blog posts on Google had an average of around 2,000 words. When it comes to keywords, you also want to try to incorporate more long-tail keywords into your blog whenever possible, as the average Google search is around four keywords and likely less competitive than one or two keyword searches. Blogging is also a great opportunity for internal linking, which can improve search engine readability.
Post Blog Posts Regularly
The more you post to your business blog, the better chances are you'll be able to capture the attention of a business lead.  According to HubSpot, websites that post over 16 blogs a month have on average 3.5x more traffic than those who would only add a blog post 1 to 4 times a month.
Can Improve Brand Positioning
Blogging is a great opportunity to give your business an edge on competitors and improve brand positioning. Providing informative content to readers helps establish trust in your brand, and improves your ability to be seen as a go to resource. This can help a business improve sales long term, and compete with larger businesses that may have a larger budget for marketing and lead generation.
Can Provide Social Connection With Your Brand
Blogging gives your business a more personal connection with customers. Blogging will allow you to have a voice online and share your opinion, values, and recommendations with others, which would not be appropriate in some other forms of business marketing. It also gives your business the ability to communicate directly with customers through comments and social shares.
Assists in Generating New Leads to Your Website
Blogging is a great way to improve your businesses lead generation strategy. By creating posts on topics people are interested in learning more about, you can increase brand awareness by them coming to your post via a search engine or advertisement. Blogging can also enhance your marketing efforts, such as in an email or social media campaign, as it gives additional content to share with individuals at different stages of the sales process that can increase brand credibility.
Provide Value on Your Website
Blogging also helps increase the value perception of your website. By taking the time to create free content that visitors find valuable, you are able to increase the time they may spend browsing your site for information. People will then return to your website for your solutions, recommendations, and informative content that you post regularly on your blog. This type of content builds loyalty among potential customers, increasing their desire to choose your brand when the time comes to make a purchasing decision.
Starting a business blog is a great content marketing strategy if your business is looking to grow online. Blogs help improve search rankings, boost lead generation, provide value to visitors, create social connection, and improve brand awareness.
Alliance is a full service digital agency providing development and marketing support for businesses interested in starting an online blog. For help with setup or content creation for your blog, contact a marketing expert here.